This post contains links through which we may earn a small commission should you make a purchase from a brand. This in no way affects our ability to objectively critique the products and brands we review.
Evidence Based Research To fulfill our commitment to bringing our audience accurate and insightful content, our expert writers and medical reviewers rely on carefully curated research.
Read Our Editorial Policy
Welcome to our White Leaf Provisions review!
Bringing biodynamic baby (and toddler) food to the USA, where we're still warming up to the idea of biodynamic farming in general, the White Leaf Provisions team says they are determined to push the baby food quality ceiling past organic standards. 
Our interview with White Leaf Co-Founder Keith Rowe revealed that there is much more to these otherwise unassuming apple sauces and baby food purees than meets the eye, especially when it comes to how they're made.
Here's everything you need to know about White Leaf Provisions—that earned a B+ in our review—from their farming methods to the packaging and everything in between.
Mango + Carrot + Banana + Pear
Description

Happily slurped up by our unwitting testers, this biodynamic baby food contains just one ingredient not listed in the name of the product: organic lemon juice concentrate.

Ingredients

Organic Biodynamic Carrot, Organic Biodynamic Mango, Organic Biodynamic Banana, Organic Biodynamic Pear, Organic Lemon Juice Concentrate
White Leaf Provisions Pros and Cons
Pros

Very high-quality ingredients

Unanimously liked among testers

Clean, sustainable farming method
Cons

Premium price

Educational resources not available (404 error)

Customer service issues (see below)
Rooted In Compassion: The White Leaf Provision Story
Growing up on a small farm in Ireland, White Leaf Provisions Co-Founder Keith Rowe became accustomed to clean, locally sourced food very early in life.
As he got older, life continued to add more perspective—as it does—to Keith's relationship with food, aided by his classical French cooking training and his marriage to Co-Founder Meghan Rowe, who had a passion for biodynamic farming.
Before long, the Rowes had a son, whom they wanted to raise on food comparable in quality to that of Keith's upbringing.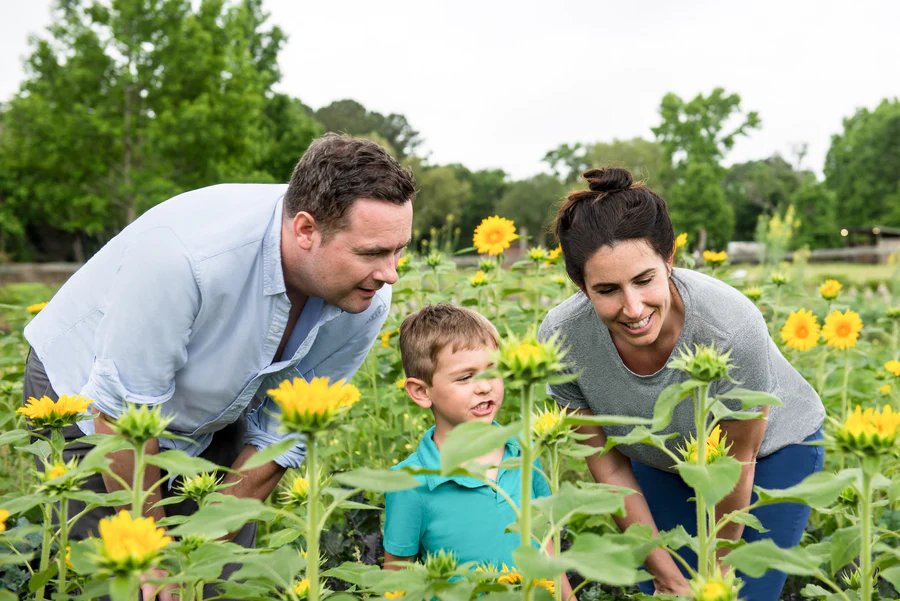 For a while, they cooked all Keegan's meals from scratch, but when he came to the age of on-the-go snacking, Mom and Dad were a bit underwhelmed by grocery store options—particularly when it came to transparency of farming standards.
"Most products were non-GMO and organic, so consumers are aware," Keith said, adding, "There wasn't transparency in the US baby food market when it came to biodynamic farming."
This point became the cornerstone of White Leaf Provisions, as Meghan and Keith worked to close this gap with biodynamic baby food.
They launched in the US (California) in 2015, and have been pushing for higher farming standards in the baby food industry since day one.
That covers the origin story, but what is this "biodynamic farming" concept that keeps surfacing?
About Biodynamic Farming
Where agriculture is still approached in much of the world from a purely exploitative perspective, biodynamic farming seeks to treat each scrap of land as a unique and very much alive entity with unique needs.
It's kind of like the ongoing paradigm shift from traditional to holistic medicine; instead of honing in on production above all else, biodynamic farms seek to honor every facet of the natural ecosystem to enhance the quality of everything on it, from animals to crops and more, while preserving the integrity of the land in its most natural state.
Biodynamic agriculture works with the natural biodiversity of the land, not against it, to develop and encourage high-quality compost, manure, soil, and more. Animals are generally left fully intact (beaks, horns, and all) and free to forage.
Many of us in the US are still very new (or completely oblivious) to biodynamic farming, so to contextualize it in terms we're more familiar with, it's basically a broader umbrella that reigns in many of our beloved buzzwords (organic, free-range, grass-fed, etc.), while adding more elements mentioned above.
To be a bit reductive, biodynamic farming is "super organic," and White Leaf Provisions is working to help the United States catch on.
Our White Leaf Provisions Review
We use the following criteria when reviewing brands (White Leaf Provisions' scores included):
Quality (A)
Transparency (A-)
Website Experience (A-)
Customer Service (B-)
Value (B)
Brand Value (A)
Balancing their strengths (ingredient traceability and quality) and areas for improvement (value and customer service), we arrived at an overall rating of B+ for White Leaf Provisions.
On to the review!
Quality
Summary:
Grade: A
Biodynamic organic ingredients, zero sketchy additives, high-quality sourcing and manufacturing standards, and more earn White Leaf Provisions an A for quality.
Starting off with the packaging, the baby food pouches we received from White Leaf Provisions were durable and attractively labeled, though label space was significantly limited due to their size.
The sealed, threaded lids and the spouts they secured were both durable and easy to use, neither falling apart even after the toddler treatment.
Despite the lack of labeling real estate, White Leaf still managed to sneak in a miniature letter from the founders providing some background info on the product, along with the usual specs (nutrition facts, ingredients, certifications, etc.).
Speaking of ingredients, here are the ingredient lists for both products we received and tested:
Mango + Carrot + Banana + Pear: Organic Biodynamic Carrot, Organic Biodynamic Mango, Organic Biodynamic Banana, Organic Biodynamic Pear, Organic Lemon Juice Concentrate
Peach + Oat: Organic Biodynamic Peach Puree, Organic Biodynamic Milled Oats
It pretty much goes without saying that these are impeccably clean, high-quality ingredient lists, even more so than most all-organic products.
While White Leaf isn't the only baby food brand offering organic ingredients, the complete lack of additives and sweeteners on top of the biodynamic certification seals a top grade from us on the quality front.
However, when looking at the ingredient formulation from a nutritional standpoint, we found some deficits. Like the vast majority of even industry-leading competitors, the White Leaf selection stays pretty silent on omega-3 fats (like EPA and DHA) and protein sources crucial for early development.
As for the behind-the-scenes stuff, Keith explained to us that the ingredients are sourced from Europe, North India, and South America. North America is slowly catching on to biodynamic farming, but not to the scale required for a business with a broad reach.
Manufacturing also takes place in Europe. White Leaf uses heat pasteurization to kill bacteria and help with shelf stability, which helps them to avoid preservatives.
Save for a bit of the usual pining about what could be (more fat and protein content), we are duly impressed with what is. White Leaf Provisions earns an A for quality.
White Leaf Provisions Product Catalog
If the whole biodynamic thing already has your eyes crossed a bit, at least the product selection at White Leaf is very simple: Baby Food and Applesauce. 
They have several varieties of each, all made with regeneratively farmed ingredients and no shifty sweeteners or other additives.
Baby Food
Available in 6- or 24-packs of 90-gram (3.17oz) pouches, White Leaf Provisions Baby food comes in these varieties:
The products are Demeter Certified Biodynamic, USDA Organic, GMO-Free, and Glyphosate Residue Free.
Mango + Carrot + Banana + Pear
Description

Happily slurped up by our unwitting testers, this biodynamic baby food contains just one ingredient not listed in the name of the product: organic lemon juice concentrate.

Ingredients

Organic Biodynamic Carrot, Organic Biodynamic Mango, Organic Biodynamic Banana, Organic Biodynamic Pear, Organic Lemon Juice Concentrate
Applesauce
You've got a choice between Apple + Cinnamon, Apple + Pear, Apple + Cherry, and of course, just straight up Applesauce.
They're all unsweetened, and most of them contain only the ingredients listed in the name of the product.
Apple + Cherry Applesauce
Description

We didn't get the chance to try it this time around, but like their other applesauces and purees, White Leaf Provisions Apple + Cherry sauce is made with 100% clean, regeneratively farmed ingredients free of added sugars and GMOs

Ingredients

Biodynamic seasonal apples, organic dark cherry puree
Transparency
Summary:
Grade: A-
White Leaf Provisions informs their site visitors in a clear, engaging way, but could tighten up a few areas of transparency.
Finer points aside, if potential customers have to dig just to learn who you are, what you do, and how you do it, it's very unlikely they will trust the products.
Between the product packaging and the White Leaf Provisions site, it just takes a few moments to learn about the products and what makes them different, including a decent introduction to biodynamic farming in general.
The About Us page follows suit, delivering a comprehensive breakdown on the founders' story, their philosophy, and even the naming of the brand itself, including a video on the brand to accompany the text.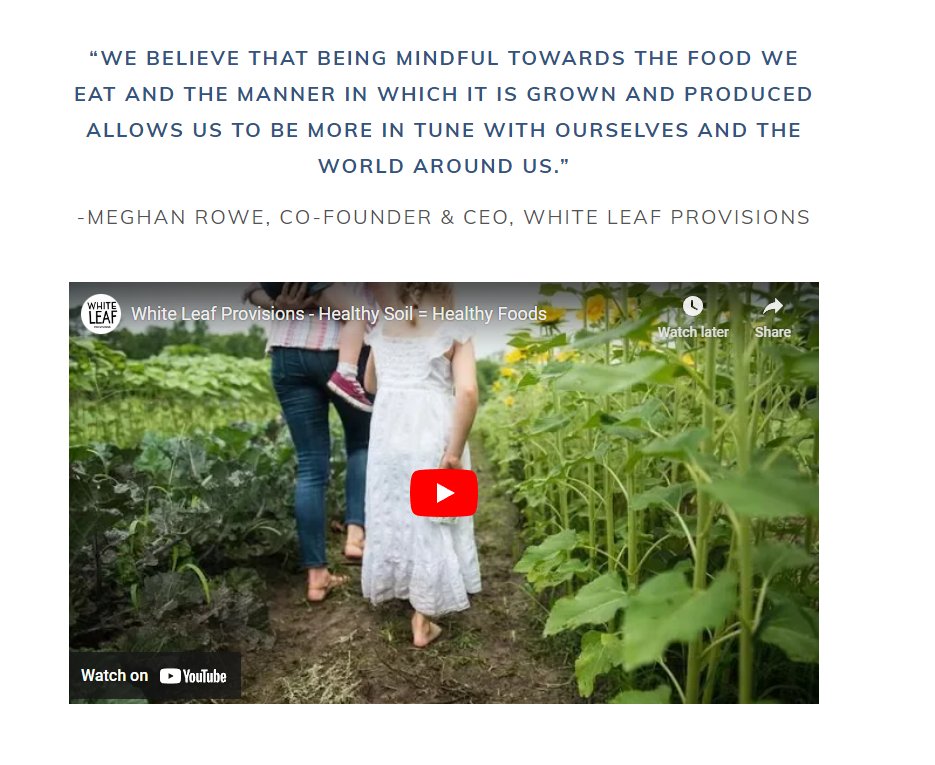 Little is left untold about the manufacturing side, between the About Us page, product pages, and the White Leaf blog, which makes sense considering it's a major differentiator for the brand.
It is considerably more difficult, however, to piece together a general outline of where the products come from and where they are manufactured.
Finally, Keith was very forthcoming in our interview, giving pointed answers to each question—even if we were a little over-zealous on the biodynamic farming questions. We couldn't help it.
They could stand to fill in a few details, as mentioned, but the major transparency points customers look for are well addressed, earning White Leaf an A- for transparency.
Website Experience
Summary:
Grade: A-
Shopping on the White Leaf Provisions website is a breeze, and both the design and functionality were seamless, but a deeper dive on biodynamic agriculture is missing.
Simplistic and non-distracting design pairs with a smooth e-commerce experience to provide a positive experience on the White Leaf Provisions website, but a more consolidated education section is lacking.
Starting with the e-commerce setup, it just takes one click from the homepage to be directed to the two major categories within their product catalog: Baby Food and Applesauce.
Once there (in either case), you'll see a pretty standard e-commerce setup—rows of clickable product images with prices—but with some cool twists.
For example, when you add an item to your cart, the window that pops up becomes a small tab that sticks to the bottom of your screen when you close it, displaying your progress toward the free shipping minimum. 
The product pages themselves are conveniently designed and informative, and there were no unnecessary snags or unwelcome elements in the checkout process that gave us pause.
All the site's content, buttons, images, and other elements displayed and functioned on mobile devices with no issues.
Finally, we mentioned that the product pages and packaging provide a decent introduction to biodynamic farming, but it's a bit piecemeal, and there isn't much for people who want to go deeper than surface level.
The About Us page links to Biodynamic Agriculture and Regenerative Agriculture pages, which would be perfect, but each page apparently no longer exists.
Overall, the White Leaf Provisions website is easy to use, well-designed, and informative, earning an A- for website experience.
Customer Service
Summary:
Grade: B-
White Leaf Provisions offers free shipping (at $60+) and a somewhat flexible return policy. While we had some trouble initially getting in touch with them, the White Leaf team quickly addressed the issue.
In addition to the speed and quality of the response we receive from customer service agents, we factor in shipping and return policies as well.
White Leaf Provisions lists an email address on the website footer, or you can use their form to submit a question on the shipping and return policies page. However, there is no phone number, instant messenger, or text support.
We did not receive a return email after submitting our question through the contact form, unfortunately; however, after speaking with the White Leaf team, they fixed the issue which was sending emails via the form to spam.
When emailing [email protected] directly, we received a timely (within 24 hours) response that answered our question accurately.
As for shipping and returns (well, refunds), the White Leaf Provisions site states orders usually ship the same day when placed before 2 PM EST, and take 7-10 business days to arrive.
The free shipping minimum is $60, which you can hit with one 24-pack of baby food. Otherwise, it's $7.95 flat rate shipping.
Understandably, actual returns are not a thing in the case of perishable food products, but the White Leaf policy says, "contact us and we will work with you to find a solution."
Contrasting the open-ended feel of this statement is a more restrictive provision on the FAQ page, which says no refunds will be issued based on palate preference alone, and "credit" will be issued for mispicked or damaged items.
While our personal interactions with the team and the vibe of the website are welcoming and accommodating, more fleshed-out customer service options would be a helpful addition.
All considered, it's a B- for customer service.
Value
Summary:
Grade: B
There's no getting around the hefty premium attached to White Leaf Provisions products, but for those who insist on biodynamic, it could well be worth it.
All White Leaf Provisions baby food purees cost the same: $17.94 for a 6 pack and $67 for a 24 pack, reducing to a range of $0.75-0.94/oz.
As always, we need to preface the price comparisons with our "apples and oranges disclaimer," given that no two baby food brands are the same.
That said, here's what some well-known competitors of White Leaf Provisions charge on a per-ounce basis:
This range covers most of the price-quality spectrum, from non-organic (and sometimes preservative-containing) options like Gerber and Beech-Nut to Serenity Kids, a premium baby food brand known for its use of meat and healthy fats.
On sheer ingredient quality, White Leaf is at or near the top of this list, but charging around double what most organic baby food brands do is a bit steep when you're staying within the fruit and vegetable domain.
If you simply won't settle for anything but the very cleanest ingredients, and you live in a place where biodynamic organic foods are tough to come by, then the premium on White Leaf Provisions baby food might feel like a perfectly justified import tax.
For parents who are happy to settle on organic ingredients, White Leaf Provisions may feel like too much.
Balancing the quality, price, and use case, we arrive at a B for value.
Brand Value
Summary:
Grade: A-
White Leaf advocates their way into an A- for brand value with their consistent efforts to raise the bar for US farmers, donations to the hungry, and more.
Every brand has their own way of moving their industry forward, contributing to causes, and so on, so as long as it's a substantial effort, we count it as brand value.
By showing the USA the quality of biodynamic organic ingredients, White Leaf Provisions is helping to elevate the state of biodynamic agriculture in the states, as more farms adopt biodynamic methods and certifications.
Their Demeter Certification speaks to a high level of sustainability, and a report from HowGood showed a significantly smaller than average carbon footprint.
Keith's experience as a classically trained chef and Meghan's advocacy for biodynamic farming add a layer of legitimacy to the brand.
On the philanthropy side, White Leaf Provisions donates products to an NYC-based non-profit called Wellfare, which provides free food to the hungry.
Overall, White Leaf Provisions makes a well-rounded showing across most brand value points we look for, but not without room to step things up. They earn an A- for brand value.
Our Experience
Our team received and tested (well, vicariously tested) two White Leaf Provisions Products: The Mango + Carrot + Banana + Pear and Peach + Oat baby food pouches.
While we by no means shy away from the opportunity to expand our palates, babies and toddlers are the key demographic anyway, so we consulted our unpaid volunteers once again for a round of sampling.
With both products, neither our two-year-old nor our four-year-old showed any hesitation after the first mouthful. The real test of likeability, as we've learned, is not just muscling down a single sample, but actively asking for more later, which both of our little testers did.
Obviously, these pouches were never meant to fully stand in for three meals a day, but even as a snack, a 3.17oz pouch may be on the lighter side for some babies.
Overall, we noticed zero problems as we observed our testers go to town on these pouches, including zero mess—no "first squeeze geyser" effect, thanks to the pouches not being overstuffed like some are.
White Leaf Provisions FAQ
Who owns White Leaf Provisions?
What is regeneratively farmed baby food?
Regenerative agriculture encompasses many practices that can't be listed in detail here, but the general methodology is to avoid chemical pesticides and conventional farming practices like tilling.
Rather, regenerative farming uses crop and livestock rotation, compost, agroforestry, and other techniques to produce a crop in as gentle and sustainable a manner as possible. 
What is biodynamic food?
Biodynamic food is that which is farmed under a methodology that emphasizes compost, crop rotation, livestock rotation, and other methods to minimize the use of pesticides (and even organic fertilizers).
This entails a lot of different practices, but the general idea is for a farm to be as self-sustaining as possible throughout every step of the crop's growth cycle.
What is biodynamic organic?
In the majority of cases, biodynamic products are already organic, as the standards required in biodynamic farming include (and exceed) those required for organic certification. In other words, virtually all biodynamic products are organic, but not the other way around.
While this makes the phrase "biodynamic organic" a bit redundant, it's still helpful for those who don't already know that biodynamic actually means "organic and then some."
Final Thoughts
White Leaf Provisions is a biodynamic baby food brand that makes clean, simple applesauce and baby food purees.
They maintain a welcoming and engaging approach to their audience, though some areas of transparency and customer service could use polish (see above).
Though the products come at a premium price, it's still difficult to find biodynamic baby food on the grocery store shelves in the US, which is a gap White Leaf is working to bridge as they encourage American farmers to climb to higher standards.
Finally, White Leaf donates products to non-profit food pantries and have worked since day one to raise awareness about toxins in baby food.
White Leaf Provisions earns an overall rating of B+ in our review. We recommend them to anyone serious about giving their baby the cleanest possible options.
---
---