This post contains links through which we may earn a small commission should you make a purchase from a brand. This in no way affects our ability to objectively critique the products and brands we review.
Evidence Based Research To fulfill our commitment to bringing our audience accurate and insightful content, our expert writers and medical reviewers rely on carefully curated research.
Read Our Editorial Policy
Try Primal Kitchen with 10% off your order:
A steady commitment to "high quality ingredients," as Primal Kitchen puts it, is how the retailer of elevated sauces, dressings, and other condiments explains their continued success.
This simply worded mantra kept popping up in our conversations with Primal Kitchen team members, who issued some well-merited complaints against the sugary, preservative-laden options still dominating the condiment aisle.
If you're anything like founder Mark Sisson, who started the Primal Kitchen brand so health-conscious people wouldn't have to choose between bland, sauceless meals and sneakily unhealthy condiments, then read on to find out how the brand earned an A in our review.
As always, our critical evaluation of Primal Kitchen involved conversations with key leadership like Founder Mark Sisson and Marketing Manager Sierra O'Toole, sampling products, and independent research.
Primal Kitchen Pros and Cons
Pros

Superior quality and nutritional profile

Little to no additives, including sugar-free items

Consistently excellent taste, texture

As a brand: Driving industry innovation forward

As a brand: Major philanthropy efforts
Cons

Premium price

Low supply chain transparency

Good calories, but tough for low-calorie diets
"On the Side" No Longer: Primal Kitchen's Origin Story
Between our face-to-face conversation with Primal Kitchen Founder Mark Sisson at Natural Health Products Expo West 2022 and the following correspondence with Marketing Manager Sierra O' Toole, we learned that Primal Kitchen was created to jolt awake a stagnant and mostly unimpressive product category.
As an elite endurance athlete with a self-proclaimed penchant for experimenting with nutrition, Mark became tired of tripping over the same stubborn pain point affecting not only himself, but other high-level athletes or just health-conscious people trying to eat well: dressings, sauces, and other condiments.
This historically mistreated category is so universally unhealthy, that Mark couldn't recommend any other course of action in his book—The Primal Blueprint—but to simply make your own dressings, sauces, and condiments.
Of course, real clashed with ideal, and as soon as Mark realized that almost nobody in the 21st century has the time or wants to churn out their own sauces like a pilgrim, Primal Kitchen was born (est. 2015).
Put simply, the brand and their now expansive product catalog aim to provide delicious alternatives with high-quality ingredients to dressings, sauces, and condiments so that athletes and everyday dieters alike don't have to "live with sauce on the side," as their team says.
This means swapping out soybean or canola oil bases with high-quality ingredients like avocado oil, which has good fats—all with no dairy, gluten, grain, refined sugar, or soy.
Primal Kitchen started out with their Avocado Mayo and has since built a dozens-strong catalog of better-for-you mayo, dressings and marinades, oils and vinegar, ketchup and mustard, dips, sauces (including pasta and pizza sauce), gravy, collagen peptides, and more.
While Primal Kitchen offers many options for keto, vegetarian, and vegan lifestyles, "non-denominational" dieters simply looking to make healthy swaps have plenty to choose from as well.
"We make—we think—the world's tastiest sauces, dressings, and toppings—things that you put on food to make it taste better, and to make it healthier."

Mark Sisson, Founder of Primal Kitchen
Our Primal Kitchen Review
Though scoring can vary based on the product focus, the size of the brand, and other circumstantial factors, we use the following criteria when ranking brands:
Quality: A+
Transparency: A-
Website Experience: A-
Customer Service: A
Value: B+
Brand Value: A+
This is how Primal Kitchen earned an overall rating of A, starting with the all-important issue of quality.
Quality
Summary:
Grade: A+
Irrefutably superior ingredient lists, a complete lack of unhealthy additives and added sugar, and a huge catalog of uncompromisingly tasty options have earned Primal Kitchen the highest possible grade for quality.
Their product line of sauce and condiment staples has over 90 organic ingredients, good fats, and no dairy, gluten, refined sugar, or soy to be found, which is why we don't place Primal Kitchen at the top of the quality spectrum lightly.
Simply put, Primal Kitchen's ingredient lists are virtually impossible to beat if you're looking for simple condiments.
Here's a snapshot of the ingredient list from one of Primal's crowd-pleasers, their Avocado Mayo:
Avocado Oil
Organic Eggs
Organic Egg Yolks
Organic Vinegar
Sea Salt
Organic Rosemary Extract
Equally as important as what's in Primal Kitchen's products—of which the Avocado Mayo is an accurate indicator—is what we don't find in these products: artificial additives, added sugar and salt, and preservatives that read like a can of WD-40.
The general impression we gathered when cruising their catalog and sampling products ourselves is that Primal Kitchen adeptly accentuates naturally satisfying fats in their products while maintaining a zero-tolerance policy for artificial junk of any kind—a stance that ingratiates the brand with both the keto crowd and the much larger swath of generally health-conscious dieters.
Having survived the low-fat crusades of the 90s and early 2000s, fat is making a comeback, and Primal Kitchen is owning the competition (so much so that the competition bought them for $200 million in 2019—a little operation called Kraft Heinz).
Here's a closer look at the Primal Kitchen catalog:
Ketchup, Mustard, and Mayo
Between these three condiment types, Primal Kitchen currently offers 14 products (9 mayo, 3 ketchup, 2 mustard), including multiple vegan mayo options, Organic Unsweetened Ketchup, and Organic Brown Spicy Mustard.
Throughout this snippet of their larger catalog, organic ingredients abound in the absence of added sugar, fillers, and preservatives.
Primal Kitchen Unsweetened Ketchup
Description

You don't need added sugar, says Primal Kitchen, and after trying their Organic Unsweetened Ketchup, we agree that tomatoes should be left alone to impart their natural sweetness.

Ingredients

Organic Tomato Concentrate, Organic Balsamic Vinegar (Organic White Wine Vinegar, Organic Grape Must), Less than 2% of Salt, Organic Onion Powder, Organic Garlic Powder, Organic Spices
Dressings, Marinades, Oils, and Vinegar
Online shoppers can choose between a dozen dressings and marinades, four avocado or olive oil products, and an Organic Balsamic Vinegar.
We were particularly fond of the Caesar and Greek Vinaigrette dressings, and once again, vegans are looped in with Vegan Ranch Dressing.
Primal Kitchen Honey Mustard Dressing & Marinade
Description

Honey and mustard are already delicious and healthy—Primal pushes these flavors to the forefront organically while steering clear of added sugar and preservatives.

Ingredients

Avocado Oil, Water, Organic Apple Cider Vinegar, Organic Stone Ground Mustard (Water, Organic Mustard Seeds, Organic Vinegar, Salt, Organic Spices), Organic Honey, Organic Lemon Juice Concentrate, Sea Salt
Dips and Sauces
Though a bit more modest than most, Primal's dip options at least cover the "holy trinity" of cheat day indulgences in a healthier way: Ranch, Buffalo Ranch, and non-dairy Queso Dip.
Their sauce reserve is considerably larger, including Jalapeno Buffalo Sauce, Classic BBQ (organic and unsweetened), Steak Sauce, Hawaiian Style BBQ, and several others.
Once again—broken record—even these typically sultrier options manage to keep it clean on the ingredient side, featuring a wealth of organic ingredients, no inflammatory vegetable oils, and no unhealthy additives or preservatives.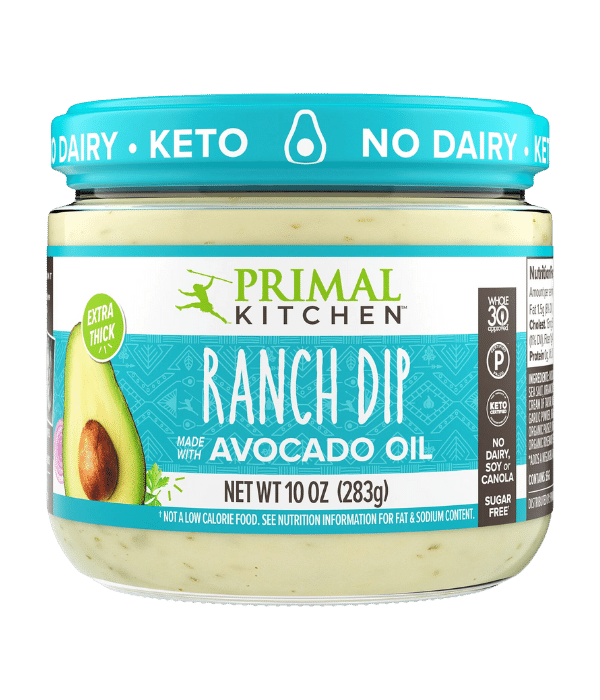 Primal Kitchen Ranch Dip
Description

The avocado oil blends in seamlessly while maintaining the satisfying, creamy texture of this gluten-free, soy-free, dairy-free ranch dip.

Ingredients

Avocado Oil, Water, Organic Apple Cider Vinegar, Egg Yolk, Sea Salt, Organic Distilled Vinegar, Citrus Fiber, Tamarind Seed Gum, Cream of Tartar, Mushroom Extract, Organic Onion Powder, Organic Garlic Powder, Organic Lemon Juice Concentrate*, Nutritional Yeast, Organic Parsley, Organic Chives, Organic Dill, Organic Black Pepper, Organic Rosemary Extract
Collagen and Whey Protein
We could preach the skin-saving and other miraculous benefits of collagen supplementation all day, but as fallible humans ourselves, we know all too well that very few people are going to stick with a chalky, bland, and/or weirdly tasting product.
But Primal Kitchen Collagen Fuel—especially the chocolate—is simply "built different," as the kids say.
Primal Kitchen is by no means the only provider of collagen supplements with balanced amino acid profiles in highly absorbable formats, but the phenomenal taste is a huge differentiator.
It hopefully is more apparent now that we're not just padding stats for a brand that we personally prefer: Primal Kitchen is objectively an A+ on the quality front.
Primal Kitchen Primal Fuel
Description

Tired of settling for "it's not that bad" as the pinnacle of supplement taste, we can't emphasize enough how delicious and needed Primal Kitchen's Primal Fuel is, all while providing high-quality whey.

Ingredients

Whey Protein Isolate, Coconut Milk Powder, Inulin (from chicory root), Cocoa Powder (Processed with Alkali), Guar Gum, Natural Flavor, Konjac Root Gum, Steviol Glycosides, Monk Fruit Extract
Transparency
Summary:
Grade: A-
Within a minute or two of site browsing, prospective customers can get a really strong sense of who Primal Kitchen is and what they offer, but the brand does miss a couple opportunities to share key insights.
This is where we credit brands for how open they are with their prospective customers (and with us) about front-end as well as back-end information, including, but not limited to:
Ingredients
Sourcing and manufacturing
QA protocols
General brand info (background, key personnel, etc.)
Important developments affecting the company
On both the labeling and site content end, Primal Kitchen leaves little left untold when it comes to the most pertinent information you would want to know about the products and the brand behind them.
The about page is personable but not fluffy, the growing library of podcasts featuring knowledgeable and high-profile guests is great for deeper exploration, and the blog is loaded with well-crafted (and equally well-photographed) recipe ideas.
And though we acknowledge they would have a lot of products/ingredients to report on, it's important to provide at least a basic summary of the supply chain (e.g. we source our ingredients from x farms in y regions/countries) spelled out, which was also not easily accessible on the Primal site.
Overall, the team was very transparent with us, as they generally are with their customers, allowing them to slide into A territory.
Website Experience
Summary:
Grade: A-
Despite their now hefty catalog, browsing and shopping Primal Kitchen products is easy and enjoyable. Altogether, site content is generous and informative, but newbies have no clear path to a catch-all page that explains the principles behind Primal's products and other basics.
Though site design can definitely make or break a surfing and/or shopping experience, so long as the aesthetic is non-distracting, we focus more on the depth and breadth of information provided as well as e-commerce functionality for this category.
Primal Kitchen's e-commerce setup makes it easy to quickly find, learn about, and purchase products—despite having more than 80 options to choose from in 17 categories—thanks to simple drop-down menus.
Layered on top of this simple, but highly efficient structure are a couple of frills that enriched our experience, such as a "this much more to free shipping" meter that hangs out in the sidebar as you're shopping.
Between the product pages, podcasts, and blog posts, site visitors have a moderate amount of information introducing them to the health advantages of Primal's products, how the company operates, and more.
However, there was no clear, consolidated, and quickly accessible route to a page explaining the science or at least the motivation behind Primal's approach to healthier condiments beyond a couple of sentences on the about page—no "Primal 101" or "Keto 101" page, etc.
Customer Service
Summary:
Grade: A
For their friendly and professional customer service response, availability of customer service channels, realistic free-shipping limits, and more, we give Primal Kitchen an A for customer service.
We award credit under this ranking category for the depth and breadth of available customer service channels, the responsiveness and accommodation level of these services, and the accommodation level of the brand's shipping and return policies.
Primal Kitchen has email, phone, and live messenger support, which is definitely above average (especially the live messenger).
The customer service representative we reached by phone was very friendly and professional, dedicating a well-above-average amount of time to our questions without rushing at any point. 
As for shipping and returns, Primal Kitchen offers free shipping on purchases of $50 or more ($25 or more for subscribers) and expedited shipping options, and they ship to over two dozen countries outside of the USA.
Primal Kitchen makes a strong and well-rounded showing for customer service, earning them an A, but these two policies knocked them down from an A+: shipping costs not covered on returns and no protection of lost, stolen, damaged packages.
Overall, and especially for a larger company, the customer service experience Primal Kitchen provides points to an active and ongoing effort to satisfy every customer, regardless of purchasing power.
Value
Summary:
Grade: B+
As is typical of premium brands, it's not a question of whether or not the products are expensive (they always are), but rather, if they're worth it. Primal Kitchen makes a strong case for the latter.
Some of Primal Kitchen's price points are closer to their average grocery store alternatives than others, but without question, the brand charges a hefty premium in the vast majority of cases.
Here's a small comparison between standard (brick-and-mortar) retail condiment prices versus Primal Kitchen to provide some scale:
Considering the importance of quality as well as price when accurately assessing value, we always give premium brands a chance to recoup a large majority of the credit here if they can justify the price hike with quality.
As we've covered, you'll be very hard-pressed to find any other brand of mayo, ketchup, buffalo dip, or any other product that comes even close to Primal Kitchen on a nutritional level—offering almost all-organic ingredient lists with none of the soy, dairy, gluten, and so forth.
Balancing the superior product quality and surprisingly good, if sometimes acquired taste of Primal Kitchen products, we award them a B+ for value.
Brand Value
Summary:
Grade: A+
Considering their major influence on the condiment industry, their highly innovative and bar-raising products, and heavy investments into philanthropy, Primal Kitchen receives an A+ for brand value.
Finally, this broader and slightly more subjective category aims to fully encapsulate the impact a brand has had on their industry and any communities outside their industry by assessing the following factors:
Product innovation
Supply chain oversight
Institutional knowledge
Community and industry involvement
Philanthropy and activism
Especially when accounting for their podcasts, Primal Kitchen is a highly vocal, reliably truth-speaking "influencer" (as much as we're conflicted about that word) in the broader nutrition space as well as their wheelhouse of healthier condiments and supplements.
They back up their philosophy ("Eat like your life depends on it") with action, producing highly innovative products that have influenced the industry so much, Kraft Heinz had to acquire them.
On the philanthropy front, Marketing Manager Sierra O'Toole reported on several drives Primal Kitchen has financially supported, including donating products to medical centers and hospitals during COVID-19, partnering with local and national organizations to fight food insecurity, and teaming up with The Farmlink Project.
Considering they've donated more than 275,000 pounds of food to community-driven charities since 2019 (and factoring in the above brand value indicators), it's an easy A+ here.
Our Experience
Accounting for all review team members and our experience with Primal Kitchen products before sampling for this review, we've tried a sizable chunk of their product offering, including, but not limited to the following:
In a broader context, we acknowledge Primal Kitchen's heavily disruptive and bar-raising contributions to a product category in dire need of nutritional reform.
Though we always recommend reading nutrition labels on every product, health-conscious consumers can trust that Primal Kitchen's options will be far superior to most products following the current condiment aisle status quo.
On a more personal level, our testers were unanimously impressed with how little Primal Kitchen compromises on taste, especially considering the nutritional value just described.
The Collagen Fuel Drink Mix (chocolate) was especially well-received, earning favorite status from our review team as far as collagen goes.
Every product we tried was comparable in taste to less nutritionally sound alternatives, if not tastier.
In fairness, though we didn't mind it, we can see how the avocado oil used in many of Primal's products may be an acquired taste for some consumers (especially kids), as indicated by friends and family members of some of our reviewers.
There's no getting around the fact that most of Primal Kitchen's products can be cost-prohibitive for many consumers, but if you're already buying salad dressings, sauces, etc., it's easier to justify the several-dollar markup for that much healthier version.
Overall, our review team has had an overwhelmingly positive experience with Primal Kitchen products, factoring in taste, nutritional value, variety, and the alignment of our views with the company's mission.
Primal Kitchen FAQs
Where to buy Primal Kitchen?
In addition to their online store, Primal Kitchen distributes to thousands of national, regional, and local grocery/convenience stores, including Walmart and Target. You can use their Find a Store page to find Primal Kitchen products in your area.
Who owns Primal Kitchen?
Primal Kitchen is owned by Kraft Heinz, who officially acquired the brand in April of 2019. The original founder—endurance athlete turned entrepreneur Mark Sisson—continues on in his role as CEO as Primal Kitchen grows under the Kraft Heinz family of brands.
Is Primal Kitchen healthy?
Primal Kitchen products are very healthy in that they contain mostly natural and organic ingredients, healthier fats, and zero highly inflammatory ingredients (like most processed vegetable oils) or otherwise harmful preservatives, refined sugar, or other additives.
Is all Primal Kitchen keto?
Though most of Primal Kitchen's products contain zero to three grams of carbs per serving (dressings, marinades, and mayo), some of their products (pizza/pasta sauces and gravy) break the five grams of total carbs per serving threshold, which may be too much for stricter keto regimens.
Is Primal Kitchen anti-inflammatory?
Both the addition of avocado oil—which research suggests can fight inflammation in the body—and the subtraction of pro-inflammatory, omega-6-rich oils create a strong argument for the anti-inflammatory potential of many of Primal Kitchen's products.
Final Thoughts On Primal Kitchen
Primal Kitchen is a premium brand that backs up their pricier products with virtually unbeatable ingredients, excellent flavor, and a highly accommodating variety.
It's easy to browse products and learn about Primal Kitchen's story on their website, though we'd like to see a bit more insight into their sourcing methods as well as some beginner-friendly explainer content (Keto 101).
All of our interactions with the Primal Kitchen team, including interviews with leadership and customer service testing, left us with the impression that these are knowledgeable, professional, and friendly people who know what they want and where they're headed.
In the broader context of the condiment industry, Primal Kitchen is seriously raising the bar, and now that they've sidled right next to the "other guys" in many grocery store aisles, we're hopeful that their influence will continue to grow for the betterment of public nutritional health.
We recommend Primal Kitchen, who received an overall ranking of A from us, for anyone looking to make a wellness-affirming change in their diet without compromising on taste.
---
---