This post contains links through which we may earn a small commission should you make a purchase from a brand. This in no way affects our ability to objectively critique the products and brands we review.
Evidence Based Research To fulfill our commitment to bringing our audience accurate and insightful content, our expert writers and medical reviewers rely on carefully curated research.
Read Our Editorial Policy
Whether you're a vegan, following a non-dairy diet, or just want to mix things up, there is now a plethora of vegan butter options to choose from.
Gone are the days of weird margarine spreads (what's even in those?), as we've now entered a new era where everything, including butter, can be vegan-ified—and it can be tasty, too.
Let's check out the top six vegan butter options on the market today, including the best vegan butter for baking and other choices for spreading, whipping, and more.
Top 6 Best Vegan Butter Brands: We Can't Believe They're Not Butter
Best Overall Vegan Butter: Miyokos European-Style Cultured Vegan Butter
Miyokos has risen to the top of vegan dairy alternatives in recent years, and their European Style Cultured Vegan Butter is no exception.
The eponymously named brand was founded by Miyoko Schinner in 2014, and she has been cranking out non-dairy options ranging from cream cheese to cashew mozzarella to butter ever since.
Miyokos Vegan Butter is cashew-based—which makes sense, as the first adjective typically used to describe the nut is "buttery," right?
The other ingredients are similarly recognizable, including organic coconut oil, cultured cashew milk, sunflower oil and lecithin, and sea salt.
Miyokos even has unsalted and salted varieties, giving you all the options for baking, cooking, or spreading.
Plus, it comes in handy stick form and is organic, non-GMO, and free of soy, palm oil, canola oil, and gluten.
Best Budget Vegan Butter: Earth Balance Olive Oil Buttery Spread
If you were eating dairy-free or vegan in the 90s or 2000s, you know Earth Balance.
As one of the O.G. vegan butter brands, Earth Balance has been around since 1998 and was likely the only one you'd be able to find on a grocery store shelf way back when.
Now, Earth Balance has several different varieties of vegan butter, including their Olive Oil Buttery Spread. 
While all Earth Balance products contain canola oil, this one is a tad better as it nixes the soy and adds olive oil—plus, it's the best option for our vegans on a budget.
Best Vegan Butter for Baking: Flora Unsalted Brick Plant Butter
An unfortunate thing about many vegan butters is that they come in a tub, not a stick.
This makes many types of vegan butter challenging to bake with—if a recipe calls for half a stick of butter, things could get messy.
Enter Flora Unsalted Brick Plant Butter, a vegan butter that comes in stick form, making it perfect for baking with—and it comes in salted and unsalted versions, too.
This vegan butter's base is sustainably -sourced palm kernel and palm oil, sunflower oil, and pea protein, and reviewers rave about its likeness to the real thing. 
Plus, Flora is an excellent option for people with nut allergies, as many vegan butters use a base of cashew or macadamia nuts.
Best Spreadable Vegan Butter: Melt Organic Butter Made From Plants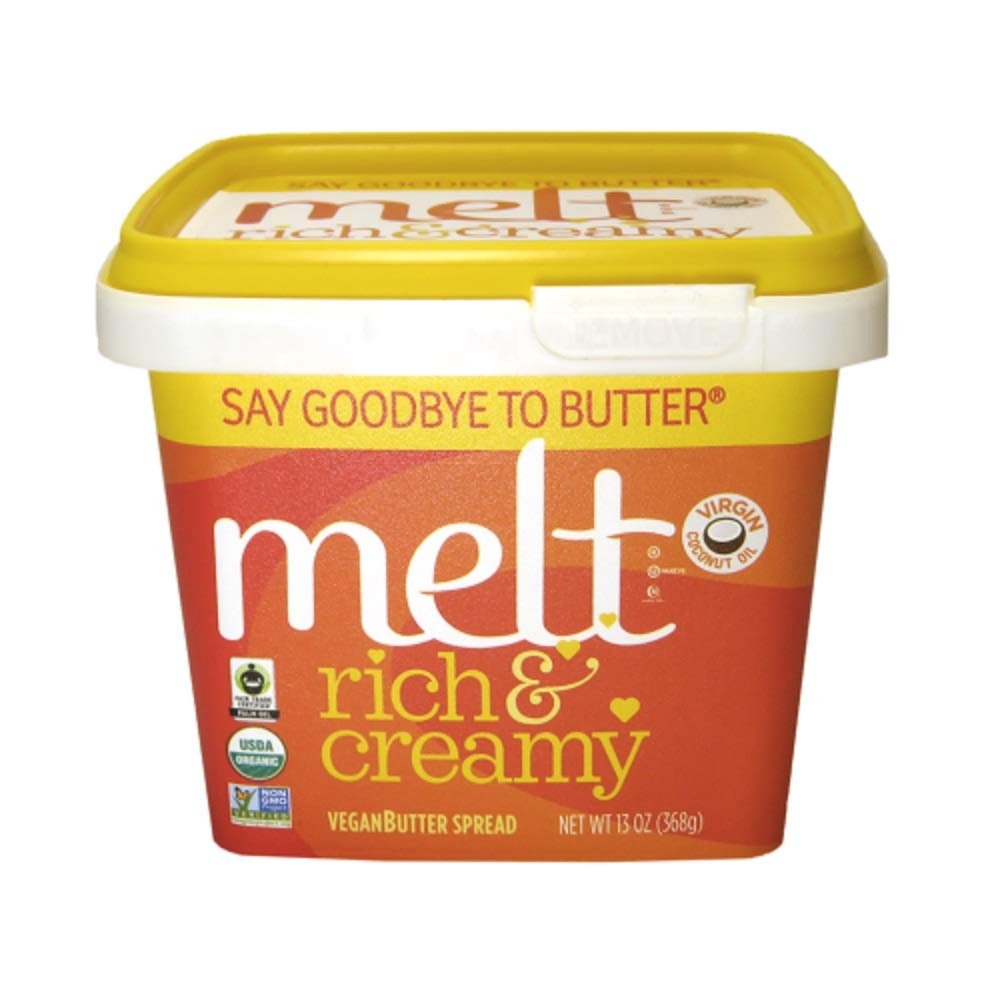 On the opposite spectrum of sticks made for baking, sometimes you just need a tub of super-spreadable butter (isn't it the worst when cold butter tears through your bread?)
A top-rated option is Melt Organic Butter, made from a blend of organic, non-GMO coconut oil, high-oleic sunflower oil, canola oil, and sustainably sourced palm oil.
It melts just like butter and spreads easily, although some people think the coconut flavor is too overpowering.
Best Whipped Vegan Butter: Wayfare Foods Dairy-Free Salted, Whipped Butter
Another good option for spreadable goodness is Wayfare Foods Whipped Butter—a nut-free vegan butter made from an organic blend of butter beans, coconut oil, and konjac root powder.
(In case you're wondering, butter beans are the same as lima beans, lending a slight umami taste to this butter.)
We'd recommend slathering this whipped, salty not-butter on a stack of warm pancakes.
Best Cultured Vegan Butter: Wildbrine European-Style Cultured Cashew Butter
Wildbrine is known for its kimchi and sauerkraut—so it's no surprise that they also ventured into cultured butter.
(BTW, "real" butter is cultured, too—similar to yogurt, the cream is treated with bacterial cultures and allowed to ferment before churning, resulting in more acidic butter.)
In the case of Wildbrine European-Style Cultured Cashew Butter (that's a mouthful), they combine coconut oil, sunflower oil, and cashews with sweet potato, cabbage, oats, cultured dextrose, and Lactobacillus cultures to make a funky-tasting (but delicious) buttery spread. 
And the people agree, as they were a finalist for "Best New Special Diet Food" at the 2021 Nexty Awards at our favorite trade show, Expo West.
FAQs About Vegan Butter
What Vegan Butter Tastes Most Like Real Butter?
Earth Balance is likely the vegan butter that tastes the most like real butter—it's been around for decades for a reason. 
Miyoko's European-Style Butter and Flora Unsalted Brick Plant Butter are two other top contenders.   
Which Vegan Butter Is the Healthiest?
The healthiest vegan butters on this list are Miyokos, Wildbrine, and Wayfare, as they do not contain canola oil or soy products.
What Is Vegan Butter Made Of? 
Vegan butter can be made of several different foods. 
The most common bases of vegan butter are coconut oil, palm oil, sunflower oil, canola oil, cashews, or macadamia nuts.
---
---